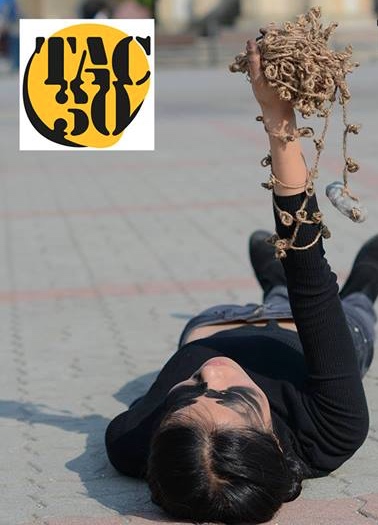 Transart Communication 2018 Festival
September 6, 2018 @ 5:00 pm

-

September 8, 2018 @ 11:00 pm
PROGRAM
6.9.2018
Transart '30 Exhibition Opening
Ernest Zmeták Art Gallery Nové Zámky 17:00
Film Screening
Joyraj Bhattacharjee: Ghya Chang Fou
with Subhasis Chaudhury & Payel (India)
Cultural Centre Kovak 19:30–22:00
7.9.2018
Group Situation
Main square 15:00–17:00
Csemadok Culture House 18:00–23:00
Rokko Juhász (Slovakia)
Doris Steinbichler (Austria)
Katarína Karafová & Michal Huštaty (Slovakia)
Bálint Szombathy (Serbia/Hungary)
Burong Wenjie Zeng (China)
Katalin Ladik (Hungary)
István Kovács (Hungary)
8.9.2018
Community Intervention
City Vegetables Market 09:00-11:00
Csemadok Culture House 17:00–23:00
Martin Bízik – Gabriela Birošová – Dominika Kolačkovská (Slovakia)
Guadalupe Aldrete (Mexico)
Michal Murin (Slovakia)
Peter Baren (Netherland)
Paola Paz Yee (Mexico)
Beate Linne (Germany)
Peter Kalmus (Slovakia)
Mads Floor Andersen (Denmark)
Franz Hautzinger (Austria) – Concert
This year, the Performance Art Festival Transart Communication celebrates its 30th Anniversary. On this occasion, we are pleased to invite you to attend the "Transart '30" exhibition at Ernest Zmeták Art Gallery in Nové Zámky, where the curator of the show Helena Markusková will present a selection of photo and video documents and relics of the past 30 years.
TRANSART Communication 2018 will be attended by selected international artists and include several events taking place at different sites. We will try to do the impossible: to visit all the sites in Nové Zámky, where we have presented our artistic projects over the past 30 years: the premises of the Cultural Union of Hungarians in Slovakia (Csemadok), the Cinema Mier, the Ernest Zmeták Art Gallery, the City Vegetables Market, the City Park, the Main Square and the Kovak Cultural Center.
The events will start on Thursday, September 6, at 5:00 p.m. in Ernest Zmeták Art Gallery and, on Friday, September 7, at 3:00 p.m. on the Main Square: the two-hour Group Situation will be participated in by almost all artists. Later, starting at 7:00 p.m., the series of events will continue in the premises of Csemadok, where our first festival was staged in 1988. On Saturday, September 8, the events will start at 8.00 a.m. in the City Market and the program will continue at the locations listed above.
On Thursday, September 6, at 7:30 p.m., an exclusive independent Bengali (Calcutta) grand-production Ghya Chang Fou will be screened at the Kovak Cultural Center in the presence of director Joyraj Bhattacharjee, producers and actors. The screening will be a special cinematic event, because it is going to be the film´s World Premiere (Bengali movie with English subtitles).