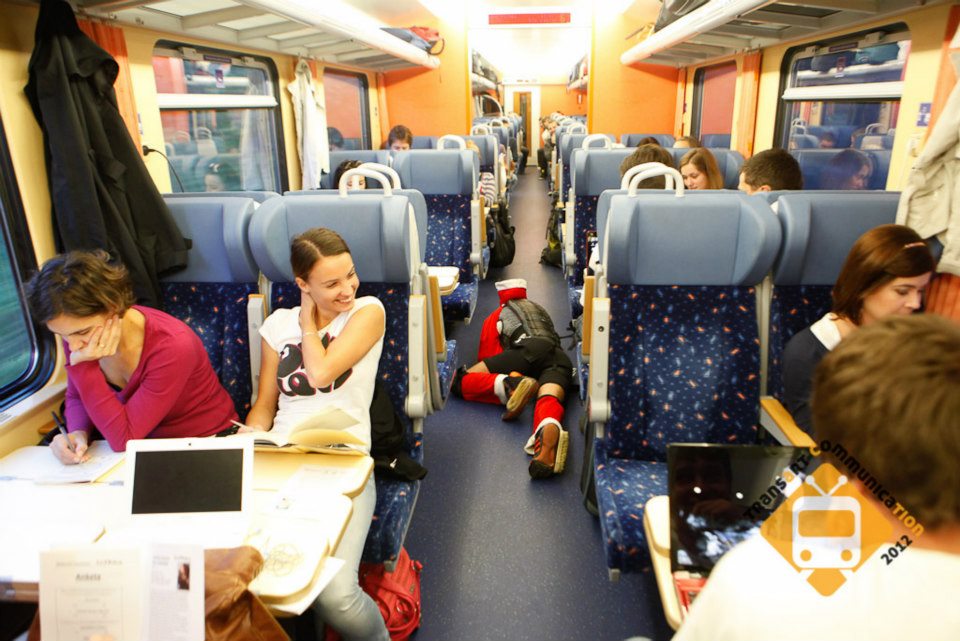 Performance Train
July 10, 2018 @ 1:41 pm

-

July 16, 2018 @ 7:00 am

|

€150

Performance Train is a 7-day mobile program across Central Europe, presenting international performance and multimedia art. The project will include more than 40 international artists, students, emerging artists, academics and cultural actors (on the train and at the five destinations). It will further include a workshop, an open platform and mobile library on performance and multimedia art. For one week it will visit 5 Central European cities, with activities on and off the train – in one cascade of live art making. It will be a unique event, crossing borders, mixing cultures and celebrating mobility, creative exchanges and performance and multimedia art-making.
Schedule:
10.07 – Departing from Budapest at 13:41 and arrival in Prague 20:03
11.07 – Public performance in Prague (Karlin Studios, Kasarna Karlin)
12.07 – Train to Krakow
13.07 – Krakow program with Intermedia faculty indoor and public spaces
14.07 – Krakow program with Intermedia faculty indoor and public spaces
15.07 – Transfer to Warsaw to board night train to Bratislava
16.07 – Arrive at around 7:30am in Bratislava.
Artists names:
Lai Chun Ling (Hong Kong), Dandan Wang (China), To Yeuk (Hong Kong), Ioko Ero Nikaido (Hong Kong), Liping Ting (Taiwan), Sun Yi-Jou (Taiwan), Wen Peng (China), He Libin (China), Paola Paz Yee (Mexico), Peter Baren (Netherland), Barcode djs (Slovakia), Marilyn Arsem (USA), Mads Floor Andersen (Denmark), Lenka Klodová (Czech Republic), Marta Bernardez (Portugal) Preema Nazia Andaleeb (Bangladesh), Nika López (Spain), Gabriela Zigová (Slovakia), Viktória Monhor (Hungary), Zsolt Sőrés (Hungary), Rokko Juhász (Slovakia, Hungary), Marta Kotwica (Poland), Darina Alster (Czech Republic), Jana Orlova (Czech Republic), Thomas Raul (Germany) Dano Dida (Slovakia), Katarína Karafová (Slovakia), Michal Huštaty (Slovakia), Andriy Helytovych (Ukrain), Colette Patterson (UK), Jolanda Jansen (Netherland), Monica Nanjunda (India), Nicole Sabella (Germany), Sophie Terlega (Greece-Australia), Vasiliki Koutrouli (Greece), Ximan Wang (China), Artur Tajber (Poland) and more…
-TICKETS-
10 tickets available for the whole journey for 150 euro each.
To book your ticket, write us on: info@kassak.me
The price do not included accommodation in Prague 2 nights (10-11 July) and Krakow 3 nights (12-14 July).
More tickets available for the train with normal train fares. List of express trains and departure time will published in few days
Partners: Vajda Lajos Stúdió Kulturális Egyesület (Szentendre), Foundation for Intermedia Art Development (Krakow), Association Galerie Michal (Ostrava).